The DermaPrep ™
Files to download:
A new paradigm - for controlled, hygienic, mechanical cleaning and debridement of skin

DermaPrep ™ represents a new paradigm - for controlled, hygienic, mechanical cleaning and debridement of skin. When compared to all currently available alternatives, using the DermaPrep clinically improves the debridement and cleaning of patients as well as being both easier and more cost efficient.

The DermaPrep ™ :
DermaPrep ™ combines a dual purpose treatment sponge - for a soft and gentle cleaning/cleansing and/or rough abrasion with a liquid control feature that enables cleaning of the body without wetting the surrounds.

The dual features of the DermaPrep ™ are:
A disinfected bi-layer (soft and abrasive) sponge
An imbedded irrigation system enabling control of the cleaning fluids

Advantages:
The soft foam side is used for a gentle cleaning
The abrasive side is used for a thorough cleaning of foreign materials and debridement of burns
Flow control of cleaning fluid
Continuous aseptic cleaning and debridement
Reduced volume of cleaning fluid (a single liter can suffice to clean an entire body)
More economic use of cleaning fluid to clean the skin surface
No wetting of the surrounding bed sheets
Ergonomic handling of the sponge

Applications:
DermaPrep ™ is being used in the most demanding clinical environments such as; Emergency Room, Burn Units and Operating Rooms, First aid /field level departments and specialized units.
Acute patients: Trauma cases (All types of burns, road, work & home related accidents)
Daily hygienic care of bed ridden and handicapped patients
The Need for Pre-Treatment of Injured or Soiled Skin
Before the initiation of any topical treatment the skin needs to be cleaned of any foreign material (such as gravel, dirt, oils or paint) and debrided of any dead tissue remains.

Debridement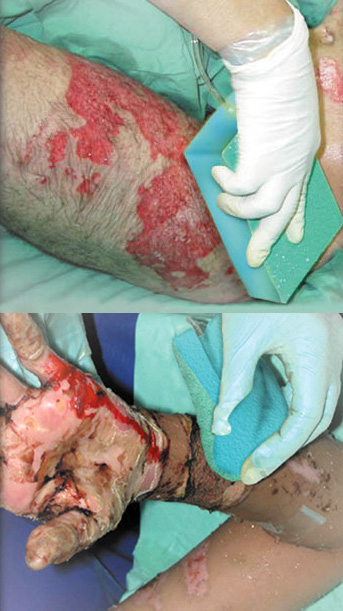 The debridement of thick and adherent eschar needs chemical or surgical procedures. However, small fragments of necrotic or dissolved tissues (such as blisters or enzymatically digested tissue) only needs a - brusque mechanical scraping for an adequate removal.

The Conventional/Standard debridement practice
The commonly accepted medical practice for cleaning soiled skin or mechanical debridement requires saline bags/bottles, packs of gauzes, large bowel (usually stainless steel), soap, assorted medicaments. The usual procedure involves aseptically adding one or two 1000 cc of saline bags/bottles plus 3-6 packs of gauzes into a very large stainless steel bowl. Soap or any other medicament may be added. The wetted gauze is used for debridement by rubbing and cleaning the affected areas.

Medical Disadvantages of conventional debridement and cleaning practice:
Inadequate removal of adherent particles and debris - gauze is usually too soft and smooth for this procedure
Difficult handling - the wet gauze is too small and uncomfortable to handle
Currently available alternatives (sponges and foams) unsatisfactory for debridement - although these do have either abrasive or gentle cleansing surfaces in practice function only as washing sponges
Contamination of the debridement and washing fluid - caused by the repeated compression / squeezing of the gauze or sponge in order to release the fluid into the container bowl
Insufficient volume of liquid in a pre-wetted sponge/wet wipes for the entire procedure - does not contain enough liquids for a thorough washing
Other disadvantages of conventional procedure
The cleansing wet wipes-serviettes cannot substitute for the DermaPrep™ in efficacy and cost
Frequent changing of sheets – necessitated by the uncontrolled quantities of fluids that spill and wet the surrounding sheets during conventional debridement and cleaning practice

DermaPrep Procedure for use: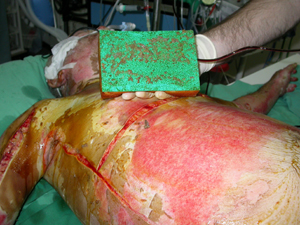 Following removal of the sterile packaging the DermaPrep™ is connected by an infusion set or similar regulated connecting tubing to a cleansing liquid container (bag or bottle of sterile saline or water). After opening and regulating the flow valve the sponge is used to clean/debride the affected tissues providing the desired quantity of fluids. Soaps and/or medicaments may be added to the cleaning liquids. The fluid filled sponge is squeezed empty into an adjacent basin after each use and then refilled with new, clean and sterile cleansing liquid from the bag/bottle.