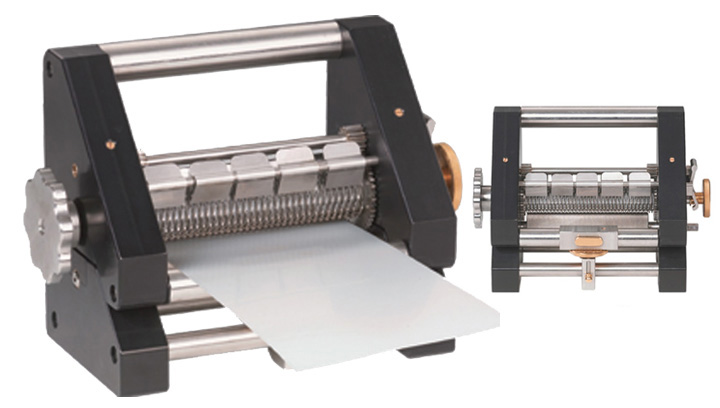 The "Rosenberg" Adjustable Skin Mesher
Files to download:
A New Generation in its field
4Med Ltd. has developed the "Rosenberg Mesher" - a new generation mesher for skin graft meshingsystems. The design of the state of the art "Rosenberg Mesher" incorporate the expertise of leading plastic surgeons and biomedical engineers.

The "Rosenberg Mesher`s" numerous benefits include:

Adjustable meshing ratios
The adjustable mesher with its options of multiple meshing ratios eliminates the need for stocks of different ratios of meshers or different rollers or different kind of carriers, The skin graft may be meshed into several meshing ratios (from 1:1 up to more than 1:5) according to the graft size needed, available skin, and functional and aesthetic considerations.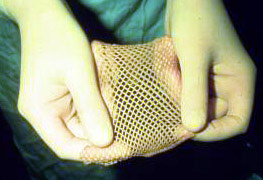 Versatility of graft size and shape, "Intergra®" Certified. The "Rosenberg Mesher" width is nearly double the width of traditional meshers and the practically unlimited length of the carrier allows for meshing grafts of any size and shape.The unique elevation system allows any smooth plate, thickness range from 0.5mm to 5 mm, 155 mm wide and ultimate length to be used as a graft carrier.
It has been successfully used to mesh "Integra ®" artificial skin.

Improved Safety
The special incision, carrier and gearing system prevents graft sheering and rolling around the blades.

Time and effort saving
Setting ratios without removing or exchanging parts or carriers, ease of spreading the graft on the special carriers and grafts that do not roll around the blades.

Battery Power Unit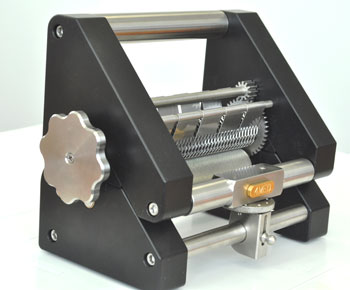 A unique carrying and autoclaving container offers the option of a battery-powered unit that transforms the manual mesher into a powered system. It is the first and only mesher to be both manual and/or powered, giving the surgeon greater flexibility. The optional battery pack allows the device to be operated by one person, saving the surgeon time and money.

Uniform, disposable extended sizes carriers. The smooth carrier and a releasing nets prevent the meshed skin graft from adhering to the cutting blades. The carrier width is nearly double the width of traditional carriers and the practically unlimited length of the carrier allows for meshing grafts of any size and shape. The new standard carrier size is 14 x 30 cm (longer carriers available). The uniform, smooth disposable carriers eliminate the need to stock carriers of different sizes